Festival Style 2018- The Ultimate Guide
Do you think you have been caught in a style rut lately? Is there a cool over the top pair of sunglasses that you are oh-so-itching to try on but your home town is not the comfiest place on planet earth where you would like to try it first? Do you think you are finally ready to take the plunge and experiment a little with your style?
Well, fashion legends have it, music festivals might just be the perfect place to break a monotonous personal style rut, experiment with your looks, and push your fashion boundaries.   
With so many music festivals happening around the state this year, here is your chance to try something fun, something new. And our ultimate festival fashion 2018 guide is here to provide you a little cheat sheet on the what, why and how for the music festivals ahead.
STAND APART FROM THE CROWD FOR FESTIVAL SEASON 2018
A brief look on the festival looks of the past decades, and you would feel almost all the festival outfits have started looking similar. What's the point of preparing months ahead then when at the Coachella party, y'all would be looking the same, eh?
Maybe this could be the year when you could finally try something funky and trendy in addition to the basic festival necessities such as fringes and crochet. Let's first break down the basic festival fashion essentials, then we will guide you how you can build up your chicest festival look till date this year: 
FESTIVAL CLOTHING 2018 – BASIC TRENDS

The whole point of a music festival look is to stand out from the rest. Enhance your individual charms by mixing and matching your personal style with the coolest rock and roll or punk rock trend.
It means that you don't have to do a complete costume overdo. Instead, select the style that will suit your personality and add an edge to it. At the same time, you need to keep your festival clothing comfy so you can party hard. Keep this pointer in mind: a spot on festival outfit would be the best combo of functionality and trend.  
Add a Statement Piece
At a festival you can rock a perfect trendy look by adding one statement piece to your attire. You can opt to wear any basic clothing items from your wardrobe and throw over a bohemian style kimono over it to give that coolest boho vibe. That means, you don't need to go out and wear everything you get your hands on; try finding the key clothing pieces from your wardrobe first.
Featuring Ruby Sangria Peacock Kimono
Don't Shy Away from Boho Basics such as Fringes, Laces & Frills
The fringes have always been a boho staple; you can add an accessory with fringes to look absolutely edgy and cool. This style can be in the form of a bag, jacket or a pair of booties and it will instantly boost your style. Even a crop top with fringes would take you from 10 to 100 in an instant. 
Featuring Sahara Fringe Bag
Bring on the Badass Glam
Add up an element of badass to your stylish look by getting some texture or rock glam to it. A unique necklace made up of metal, some statement earrings, or a pair of studded boots can balance an overdone festival look. 
HOW TO BUILD UP THE FESTIVAL CLOTHING 2018 BASIC WARDROBE
I Festive Bottoms for Summer 2018
The boho-chic vibe is the 'in' fashion style for music festivals. Quite honestly, bohemian chic fashion statement has always been the cool girl's timeless classic fashion style. As your key clothing pieces, you need to select either between pants, shorts or skirts.
HAREM PANTS
For a chic & sleek comfy bohemian look, harem pants would be the perfect place to design your entire outfit around. Harem pants are loose and baggy but cinched around the ankles – the style being heavily inspired from the ancient Indian yogi outfits. These are the perfect choice for festivals when you would want to rock on hard all day in an outfit that provides you ease of movement and navigation and does not bug you throughout the day. 
Harem pants have been a celeb approved choice of clothing for countless occasions but for sure festivals are the truest occurrence they would fit in! Harem pants were worn by Victoria Beckham as a part of her pretty cool and edgy airport outfit. She dressed them up with a simple grey t-shirt and a casual black jacket – an effortlessly Posh and polished look.
Ciara wore silky harem pants to the red carpets multiple times. Though her harem pants were extra flared and she paired it with bespoke custom extra fit sleek black jacket and bohemian silk scarf.  
Hand stitched bohemian style harem pants are available at the One Tribe Apparel in over 50 different prints. From tribal to festive, there is an array of options to choose from. Pick a design that speaks to your soul but since the geometrical patterns are quite the thing in the fashion runways this year, you should definitely check the tribal diamond prints available in black, blue and purple and the cult fave stripes print in black and navy blue. 
DENIM SHORTS
Another pretty cool option to wear to festivals during the spring & summer of 2018 would be the denim shorts! Ripped hem, shredded, fringed, patched, embroidered – the variety of denim shorts for the festival season is mind boggling.
For some celeb style inspiration, check out Rihanna who wore a pair of classic denim shorts at Coachella in 2011 styled with a a cool hat and a camo jacket. She kept the accessoris to a minimum with a layered pendant necklace.
Emma Watson sported ripped hem shorts at Glastonbury in 2010 and styled them with an animal print belt, a sleeveless white shirt, a small crossbody wallet, and stack bracelets.
If these celeb festival looks featuring boho shorts weren't enough to convince you to flaunt shorts this season, here are some great options for you to pick.
For a very out there, fun, cool and edgy look, check out the Kramer Shorts – they bring the two best of the best festival trends together: crochet and fringes. It is like a marriage of two amazing and in-trend styles. No matter what you wear with these shorts - even something as simple as a black tank top - it would look gorgeous.
Featuring Kramer Shorts
For a second option, we recommend something vivacious like the Purple Elephant denim shorts. These shorts are contemporary chic with their embellished bottoms that are in vogue for summer 2018. When you have a pair of shorts this unique, you already have got a pretty solid base down to build the rest of your outfit. 
Featuring Purple Elephant denim shorts & Tan Tassel Crochet Top
II FESTIVE TOPS & COVERUPS FOR SUMMER 2018
If you have selected harem pants or a cool pair of shorts as your bottoms; you can make-do with a top as simple as a basic plain white tank top or off shoulder crop top. However, when you are out in the world during the festival scene having the time of your life, it is only natural for you to crave a bit of jazz. Here come the best festive tops & coverups for summer 2018: 
Tassels, fringes, lace, crochet, stripes, solid monochromatic tops, Aztec prints, animal designs, graphic tees – when it comes to festival style fashion – the variation, diversity of style in womens tops knows no bounds. You have to experiment with what you love and balance out your festival outfit. 
If you are the kind of soul who could not care less about trends but wants to look chic and comfy, keep your outfit simple and slick, even at Coachella. Look at this cute sleeveless "Coffee, Yoga, Wine" tank top in black; it would go perfectly with ripped hem denim shorts for some serious Rihanna vibes! Also, the slogan tees are all the rage when luxurious name brands featured men-inspired baggy and comfy shirts for women earlier this year on the runway, why not try them to a music festival as well. 
Featuring Coffee Yoga Wine Muscle Tee
For a very bohemian free-spirited summer look, this RIVIERA VIBES SURPLICE TOP is what we deem perfect to wear either with a short skirt or some solid colored harem pants. If you fancy, you can wear it with shorts too. The elastic cinched waist gives off a pretty steampunk fashion vibe. If goth is where your heart is, maybe wear this with black flared pants and go hardcore punk! 
Featuring Riviera Vibes Surplice Top
A very refreshing fashion trend of 2018 was the revival of stuff that your grandma might already have in her wardrobe! We are talking crochet and tassels here; neither of them are fresh from the oven trends, as a matter of fact. Both were huge back in the 70s and were teamed with bell bottom pants and flared jeans. If a little fashion runway sizzle is what you fancy in your 2018 festival looks, check out the colored handmade tassel crochet tops at One Tribe Apparel. The colors scream spring and the pattern is right on the fashion radar.
Featuring Pink Tassel crochet top
Would you really call it a festival look if you don't really spot any off-shoulder crop tops? Not really! Thanks to Kendall, Kylie and Kim, the bandeau tops and off shoulder crop tops are the most spotted at Coachella and other festivals. Honestly, they look good with anything; especially if you want to go a little wild on festivals and flaunt your tattoos or belly piercings! 
Featuring Pure Love Crop top
A kimono coverup is an absolute must-have for summer and spring. From beaches to festivals, boho kimonos are all you need to transcend any plain look to a breezy summery look. From girly corals to the classic blacks – florals and tribal motifs are both trending for summer 2018. 
Featuring Black & Red Peacock Kimono and Mediterranean Blue Peacock Kimono
III BAGS FOR FESTIVAL 2018
We have said it already: fringes, crochet, & embroidered styles are the hippie boho festive trends for the year. At festivals, a bag costing enough to pay a month's rent is not what you would want to carry. A crossbody bag or a shoulder bag is what you need to hold a water bottle, sunnies, mobile and a few knick knacks. 
Check out the exquisitely designed tribal power red shoulder bag with fringes; use it either as a shoulder bag or carry it as a crossbody bag. 
Featuring Dawn Dream "Dakota Fringe" Bag
A lot of Indian inspired handicrafts are also great to add a bit of pattern to your outfit; these are also perfect for festivals. This Indian handicraft inspired sling bag has a very cool and feminine vibe, and would work perfectly with multiple outfits.  
Featuring Indian Summer Sling Bag
IV JEWELRY AND FLASH TATTOOS FOR FESTIVAL 2018
Nobody would feel festive enough without some chic metallic tattoos, makeup, jewelry or hair! From wearing gemstones as facial makeups to perking up looks with metallic flash tattoos – the festival 2018 trends encompass everything from hippie, punk, rock to native styles.
Geometric honeycomb pattern for feet and Sanskrit symbols for neck and arms is what would be trending in the summer 2018 festivals.  
Featuring Native Aztec Flash Tattoo Set
Mala bracelets and necklaces would also be huge this year when it comes to the trending festival accessories in 2018. Not only do they look unique at first glance but there are hidden spiritual energies associated to these earthy beads which makes them even more special. Other than that, layering necklaces is a trend still going strong. From fitted chokers to dainty dangling neckpieces featuring charms of galaxies, symbols and signs to chunky stone and crystal necklaces – a variety of jewelry is expected to be spotted this summer in festivals.  
Featuring Golden Choker Set
V SUNGLASSES TRENDS FOR FESTIVAL 2018
From yellow tinted aviators to Matrix-inspired angular specs – the sunnies trend for festival would be boujee, diverse and very retro glam. Like the shoes trend this year, the sunglasses styles are a major throwback to the 70s and 80s fashion. Tinted lenses, elongated cat-eye shapes, sparkling metallic frames, over the top crazy colors, and even ski goggles are in vogue! Steampunk style is what the creative designers probably kept in mind while designing the new sunglasses styles for 2018. Rock a pair to Coachella this year!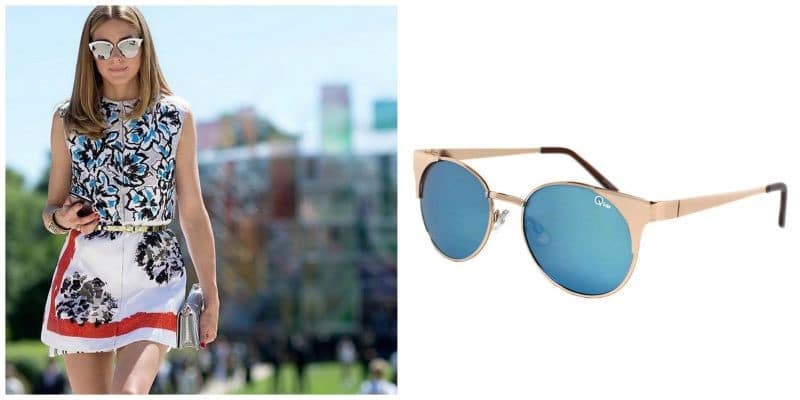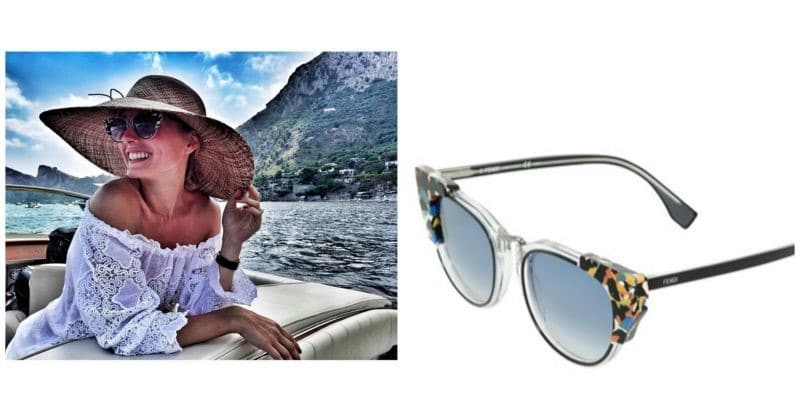 Coachella and other festivals are the best place to add your own twist to trends. In fact, the best way to get spotted is to keep it trendy without looking like a copy cat. So take a look at your favorite smaller brands and what they have to offer when you're building up your festival outfits. Most importantly, have fun!
Leave a comment
Comments will be approved before showing up.